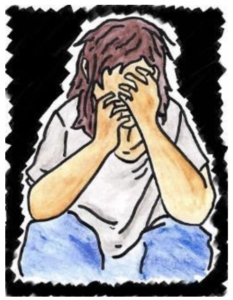 Shell-shocked.  Mentally challenged.  And abandoned by fleeing refugees. 
Dumped at our dreamer's door, her looks were alarming.  Her skittishness startling.  But most of all, her trauma-induced incontinence overwhelming.  
Her world had crumbled before her eyes.  Shells had slammed her village.  Her home burned.  And her caregiving brother died before her eyes.  
In an instant, she was homeless.  Orphaned.  Alone.   Yet a light shined into her darkness.  And that darkness could not overcome it.
How did light appear?  As a new home; a new family.  Her new home was a residence where caregivers live with mentally challenged orphans in dignity.  Her new family of brothers and sisters welcomed her with open arms, even in wartime.
Compelled by the love modeled by Jesus, the dreamer's young fiancée embraced her, just as she was.  "I'll take her.  Let me help her.  She's mine."
In just three weeks, this traumatized woman was transformed.  She now manages the bathroom herself.  Showered, hair combed, she sported new jeans and a fun t-shirt.  But what was most remarkable?  
They found her one afternoon alone in her room singing to herself, her face transfixed in peace and joy.
That's a Dreams InDeed light.  A home of mentally challenged orphans singing for joy in the face of crimes against humanity.  Light overcoming darkness.  Gently.  Peacefully.  Powerfully.      
Our vision?  "A light in every hard place in our generation."  
Our role?  Guard and fan glowing embers.  A few examples of flickers that turned to flames this year:  
241 preschoolers from illiterate families in eight communities at the foot of the Himalayas got their first chance to learn to read, and over a dozen field laborers insisted on night classes, too.

250 internally displaced families with mentally challenged children received food, medicine, and friendship from volunteers in what the UN names the greatest refugee crisis of this generation.  

800 children sidestepped child labor, early marriage, and sectarian conflict in an Arab conflict zone, and stayed in a school with improved teaching, with 28 scholarships for the most needy.

We encouraged hundreds at Stanford, the American University of Beirut, New Jersey's University of Medicine and Dentistry, Wheaton, and a Mennonite Economic Development Associates convention to obey their dreams in hard places. 

Grantmakers for Effective Organizations cited our experience in how values in networks achieve impact against the odds, in

Cracking the Network Code: Four Principles for Grantmakers

. 
http://www.geofunders.org/geo-publications/680-network-code.  Ask us for this resource to help you enrich your network.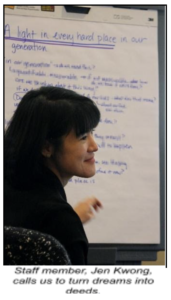 Last month, our board and staff evaluated our first decade of achievements together to inform our strategic plans.  We're making headway as we strengthen dreamers in hard places.  But we have a very long way to go to see a light in every hard place.  We must collaborate with networks far beyond ourselves. 
We committed to redouble our efforts in hard places, but also to raise our sights to share a lifetime of lessons learned, broadly and rapidly.  That way, others can put these insights to work in yet other hard places.
This visionary networked approach will require upgrading our capacity to bring our experience to bear with others.   
With you, we will strengthen more dreamers ourselves, and help others to do the same!