My mind reeled; my heart recoiled.  Why would a mother plead such a tragic prayer? 
A friend of that mother explained.  "Her prayer is not unusual.  There are no lifelong options for mentally challenged orphans."  
She went on, "Let me share one family's story.  When their father suddenly died about a year ago, two mentally challenged brothers and their little sister became orphans.  Their mother had already died. When their sister went to her job as a hairdresser, they wandered around alone.  What's worse? Their neighborhood is a combat zone."  
What options did those parents have?  Pray their challenged children would die early in their loving care?  Or pray that their challenged children would live after them in distress?  
However, an insider visionary saw another way forward. 
He dreamed of nationwide cradle-to-grave community with the mentally challenged.  Village by village, he nurtured volunteers to befriend them.  Twenty years on, that volunteer network grew to over two thousand strong, overcoming fear and prejudice.
Yet mothers still prayed that tragic prayer.  When we met this visionary he insisted, "It doesn't have to be this way!"  And he shared the rest of his dream: "a place to welcome mentally challenged orphans to live in dignity."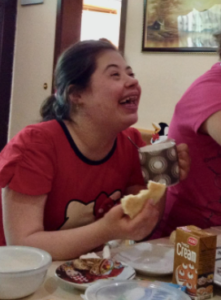 We rolled up our sleeves with him to clarify the vision, anchor the values, develop leaders, ensure stewardship, and chart plans.  And you also went to work to volunteer expertise, focus intercession, and give generously.  
And the dream was born.  That residence for mentally challenged orphans welcomed its first residents two years ago in the midst of war.  They doubled their residential capacity this year.  
Those two brothers joined a few weeks ago.  Their sister now enjoys visiting them every day to wash their hair.  Help them dress.  Hold their hands in their new home.  
That community's expansion this year delivers tangible hope, transforming desperate mothers' prayers for their children from early death to long life.  
Dreams InDeed must continue to nurture this and other emerging dreams in the Middle East.  And we are poised to expand our network to mobilize new resources.  
Europe is ripe to participate with Dreams InDeed.  Oxford University named David Haskell as a Resident Expert for the Skoll Centre for Social Entrepreneurship.  We presented at the Stanford Peace Innovation Lab in Berlin, Germany.  Coventry University also invited Dreams InDeed to its Rising Global Peace Forum in the UK.    
We've heard mothers' pleas of despair turn into prayers of hope.  We've seen the abandoned welcomed into community.  
Join us with these volunteers in insisting, "It doesn't have to be this way!"