Dreams Turn Adversaries into Allies:
Youth Volunteerism in Lebanon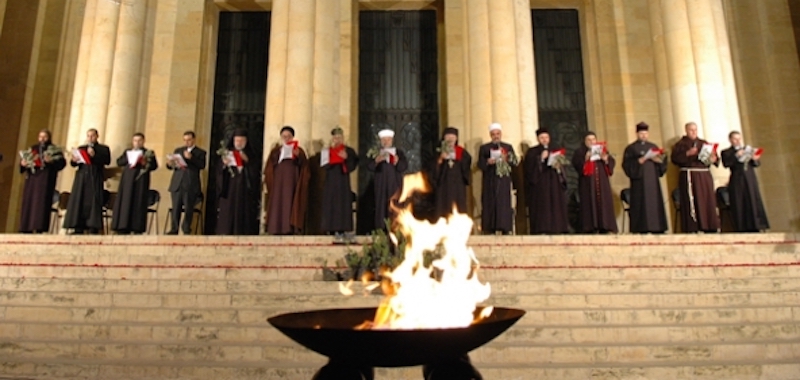 "Unity in diversity: clergy of all Lebanese confessions pray in Beirut for peace."
Case Summary
Youth volunteers conceived a shared dream during two decades of civil war: "to gather the entire family of Lebanon, a treasure for humanity, by serving with and for the Other."  Demonstrating their values of love, forgiveness, and respect; they integrated children's camps for peace across sectarian divides and rebuilt neighborhoods destroyed by car bombs.  Dreams InDeed accompanied their founders to distill mission and values, hone strategy, document impact, and disseminate principles for replication.  
Stanford Social Innovation Review explores how an inspired dream and practiced values overcome sectarian conflict to forge unity in diversity.  Four tests differentiate divine dreams from mere good ideas; another four tests distinguish core values from mere good intentions. 
This award-winning campaign, Volunteers Seek No Recognition, championed by Joy of Giving, helped to counter sectarian violence by mobilizing 172,002 volunteer workdays in 2013, rebuilding bombed neighborhoods, engaging 45% of the nation, and earning Lebanon's highest civilian award.
Sustained accompaniment changes lives, molding values into character and dreams into deeds.  Read how accompaniment enabled a child laborer in Lebanon to emerge from slaughterhouse violence to discover the joy of giving that transforms old enemies into new friends.
On the demarcation line between warring factions in Lebanon, Joy of Giving and Dreams InDeed braved gunfire to help local mothers establish a community center shared by children of both sects.  
Joy of Giving, a Lebanese youth movement, delivered mission impact and volunteer behavior change across violent sectarian divisions by harnessing  an inspired vision, practiced values, civil volunteerism, and collaborative intergroup engagement.  This case study "From Sectarianism to Solidarity: A Vital Role for Social Entrepreneurs in the Middle East and North Africa" was published in Jamali, D. and Lanteri, A. (eds.), (2015) Social Entrepreneurship in the Middle East, Volume 2. 
David Haskell showcased how the dream and values of Joy of Giving youth volunteers overcame sectarian violence in Lebanon, presented in a Stanford Social Innovation Review webinar, the Rising Global Peace Forum in Coventry, and at the Stanford Peace Innovation Lab in Berlin.  David Haskell also presented this case at the American University of Beirut, and at Oxford, Notre Dame, Manchester, Goshen, Wheaton.